Today, the Centre for Civic Education (CCE), at the EU Info Centre, signed contracts with 20 organizations whose projects were supported through the first call announced within the programme CSOs in Montenegro – from basic services to policy shaping – M'BASE, implemented by the CCE, in partnership with the German Friedrich Ebert Stiftung (FES), NGO Center for the Protection and Research of Birds (CZIP) and NGO Politikon Network (PIN) from Montenegro, in cooperation with the Ministry of Public Administration, Digital Society and Media and European Integration Office of the Government of Montenegro. The project is financed by the European Union.

The first of five planned calls was published on 2 April 2021, and it was accompanied by three info sessions in the north and the central part of Montenegro. By the deadline – 9 May 2021, the CCE received 103 project applications, of which 48 were from the 1st category and 55 from the 2nd category. In the context of the geographical structure, NGOs from the central part of Montenegro (74), then from the north (16), and from the south (13) applied. During the administrative check, 12 project applications that did not meet various technical criteria were rejected. A total of 91 projects passed through the process of further evaluation which was decided by a seven-member Evaluation Commission, which consisted of a consortium that implements this project, with the monitoring of the EU Delegation to Montenegro, but also the participation of an independent evaluator where necessary.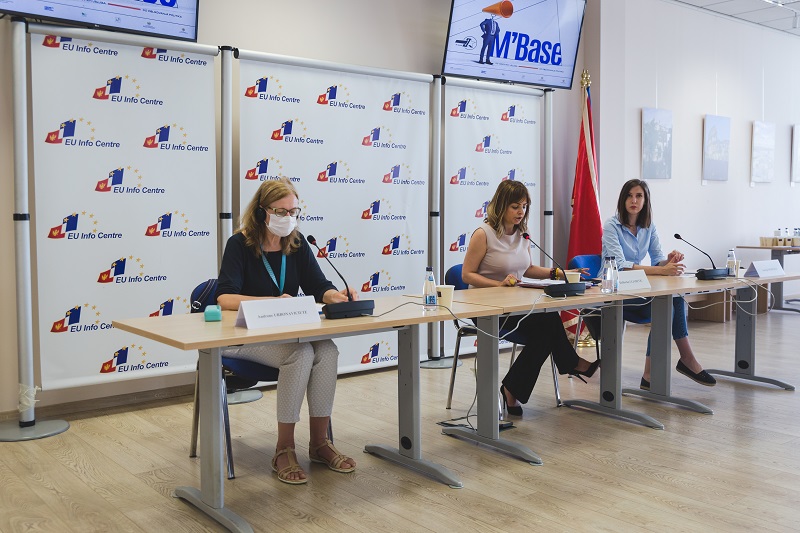 Daliborka Uljarević, Executive director of the CCE, reminded that the planned amount for this call was EUR 550,000, noting that the amount requested was seven times the amount. "Ultimately, 20 projects were supported – 12 from 1st category and 8 from 2nd category. in the implementation of these projects 33 NGOs will be involved, whether as lead applicants, partners or associates, as well as 17 institutions as associates. The projects will be conducted mainly on the territory of the entire of Montenegro, wherein it includes media campaigns in some of them, while a part is concentrated on the north and a few on the south", she stated.
"The total amount allocated to these projects is EUR 586,394.82. This indicates that due to a large number of high-quality projects, but also the fact that some had the same grades, we increased the fund by EUR 36,394.82. In addition, a capacity-building programme is planned for the beneficiaries of this programme in June," Uljarević specified.
"Montenegro needs an active and strong civil society that participates in shaping public policies and decision-making. I believe that this project will help strengthen such a civil society, because the process of democratization and Europeanization needs those who will monitor it and be a corrective to the government and decision-makers," concluded Uljarević.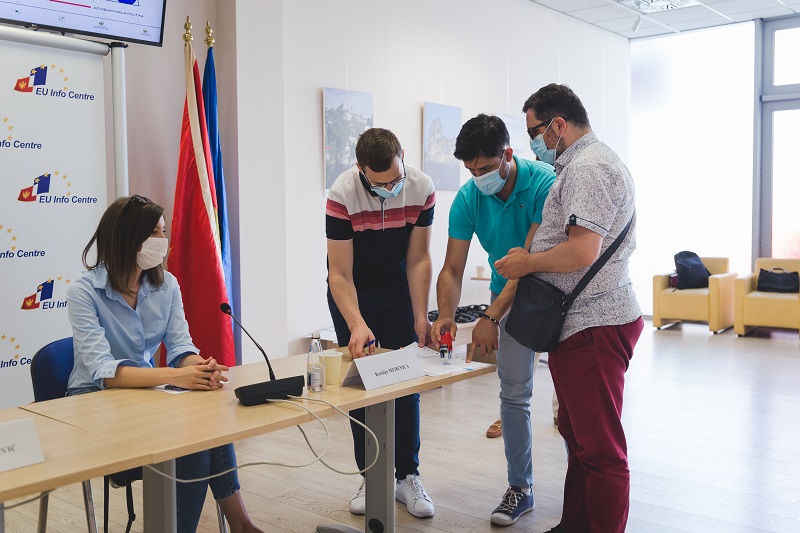 Audronė Urbonavičiūtė, Deputy Head of the Section for Cooperation at the EU Delegation to Montenegro, assessed that "civil society is a key element of any democratic system" and that it is fundamental to give voice to a citizen. "In the past years, the EU has established great cooperation with local civil society sector. This is reflected in the continuous increase of financial support for national IPA civil society funds. We are committed to find different forms to include different civil society organizations and in different geographical parts of the country and different sectors. This project is one of these ways," she said. She pointed out that the "MBASE project" is a good opportunity for Montenegrin civil society organizations, especially smaller and less developed ones, to access EU funding that will help them to build their capacities and play important roles in their communities.
Ksenija Medenica, Programme director of the Center for the Protection and Research of Birds (CZIP), congratulated the organizations that were awarded for the implementation of projects. "Participating in project evaluation was not easy because a lot of good project ideas were submitted. As someone who work in the organization that has been dealing with environmental issues for 20 years, I am very pleased that a large number of applications and phenomenal ideas addressed this area", she pointed out. "Chapter 27, which refers to the environment, is one of the most demanding in the negotiation process, therefore monitoring of national reforms, implementation of environmental protection standards and advocacy of the public interest in this area are significant. This call, as well the planned ones, will enable CSOs in Montenegro to participate more actively in the adoption of EU environmental standards, and negotiations in Chapter 27," she stated.
The themes of supported projects are diverse. These include ecology and sustainable development, youth, gender equality and combating violence against women, children's rights, the rights of persons with disabilities, local government, media, LGBT, health and EU integration.
The following projects were supported: With e-accessibility to civic activism of PWD (Union of the Blind of Montenegro), Through the North on Two Wheels (NGA Biciklo.me), Think, Act and Inspire your environment for sustainable development! (NGO ​Association for Protection of Nature and Tourism Promotion "Morakovo"), TRUCE – Work of judiciary bodies in cases of domestic violence in coastal municipalities (NGO Ksena), Empowerment and support for women with experience of violence (SOS Hotline for Women and Children Victims Bijelo Polje), Through Cooperation to a better position of PwD in the Municipality of Tuzi (NGO Children of Montenegro), Culture up Rožaje! (NGA KARIKA), Digital Employment Compass (NGO InterLingua), Civil society organizations as efficient actors in the decision-making process (NGO Eko-tim), Understand.me (NGO Empty Space), HEP Start! (NGA Hepatitis Montenegro), Local municipality at your hand (Alfa Center), Empowered civil society in the fight against devastation of space and protected areas (Center for Investigative Journalism of Montenegro CIN-CG), EU info corner on the north of Montenegro (NGO Multimedia Montenegro), I question, hence, I exist (NGO Juventas), Active Citizens for Better Media (Media Centre), Together  for LGBTI rights (Montenegrin LGBTIQ Association – Queer MONTENEGRO), Learn about your rights – citizen and police (NGO Human Rights Action (HRA), Capacity building of CSOs for active participation in the establishment of the Natura 2000 ecological network and its management (Montenegrin Ecologists Society) and Multisectoral Cooperation as a condition for prevention and protection against gender-based violence (SOS Hotline for Women and Children Victims Podgorica)    
A detailed overview of supported projects will be published on the website of CCE and partner organizations in the next three days.
Monika Mrnjačević, Project assistant