Centre for Civic Education (CCE) published 25 video lessons for teaching history and a group of social science subjects, within the project "Teaching history in COVID19 pandemic – equal opportunity for all", supported by the German Federal Foreign Office through the German Embassy in Montenegro.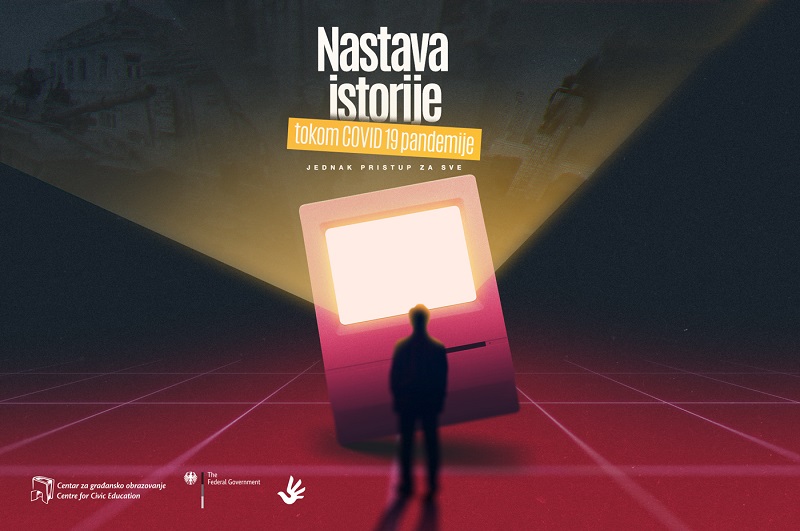 Video lessons are designed as a supporting curriculum for teaching contemporary regional and national history with reference to sensitive, controversial or insufficiently studied issues. The objective is to provide easier access to lecture on these themes to history teachers and teachers of a social group of subjects, but also pupils' easier access to scientifically proven and methodologically harmonized information. Only through critical perception of controversial and sensitive issues from our past, apart from knowledge, analytical skills of pupils can be developed.
The production of video lessons for primary school was done by a team consisting of Rade Vujović, Valentina Knežević and Žana Savović, while videos for secondary school were done by Lazar Aranitović and Marko Radojević. Editors of lessons are Igor Radulović (History Teachers Association of Montenegro HIPMONT) and Milos Vukanović (CCE). Although the themes are methodologically adapted to different levels of education, authors and editors have made an effort to make video lessons understandable to all grades of schooling.
Video lessons present the themes as follows: Culture and history of Albanians; Culture and history of the Roma; Culture and history of Croats; Culture and history of Bosnian/Muslims in Montenegro; Culture and history of Jews in Montenegro; Holocaust; Monumental cultural heritage of communism; Popular culture in communist Yugoslavia; Artistic view of the breakup of Yugoslavia; Destruction of cultural goods; Authoritarian aspect of the communist government in Yugoslavia; Communist Information Bureau (Cominform) crisis; Dissolution of Yugoslavia; Anti-bureaucratic (AB) revolution; Multipartyism in Montenegro; Anti-war movement in Montenegro; Gross Human Rights Violations in Yugoslavia; Gross Human Rights Violations in Montenegro during the 90s; Women and children in war; Refugees and migrations; NATO intervention in 1999; Attack on Dubrovnik; War propaganda of the 90s; Harmful heritage of the Second World War; Development of women`s rights in Montenegro.  
Information and views in the video lessons are presented in a comprehensive and multi-perspectival manner but also methodologically processed to focus on the development of knowledge and skills of pupils of all ages, encouraging self-inference without prejudice or emotion.
This curriculum will also soon be available in the Albanian language.
Milos Vukanović, Advisor