Within the project Let's FAST FORWARD gender equality (phase II) – from stereotyping to equality!, implemented by the Centre For Civic Education (CCE), 25 high school students from 10 cities of Montenegro, today visited the Gender Equality Committee of the Parliament of Montenegro, Police Directorate, Protector of Human rights and Freedoms of Montenegro and NGO Women's Rights Center.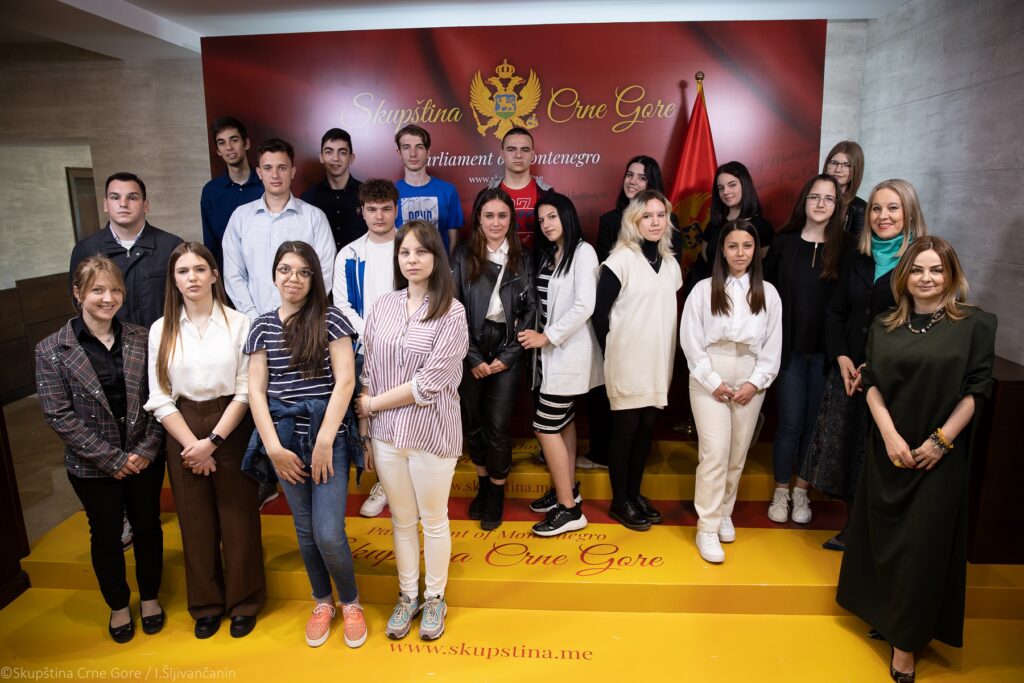 "Montenegro lives patriarchy that is systemically unjust to women, and systemic injustice is also a matter of the mindset. Even when women dare to be visible in the socio-political sphere, they are exposed to the worst misogynistic comments in the media, because it is considered that only the private sphere belongs to them. I would also remind you that women are owners of only 4% of real estate in Montenegro. And if we accept that, it is not good for us and society as a whole. That is why I am happy that you participate in the programme on gender equality organized by the CCE, the NGO that I highly appreciate, and that you are a significant and aware part of society that can make changes for the better" said Božena Jelušić, president of the Gender Equality Committee. Together with Daliborka Uljarević, Executive director of the CCE, she also awarded diplomas to these young people who had previously successfully completed the Youth Activism School, with a focus on the concept of gender equality.
After the Parliament, high school students were at the Women's Rights Center, where they talked with Ana Jaredić, a psychologist in that organization, about the work of this NGO and the challenges its activists face in protecting women's rights. "We use such meetings with young people to draw attention to the fact that on the way to achieving gender equality we need joint efforts to break down gender stereotypes and prejudices, in order to finally live in a society of equal opportunities for all", Jaredić told to high school students.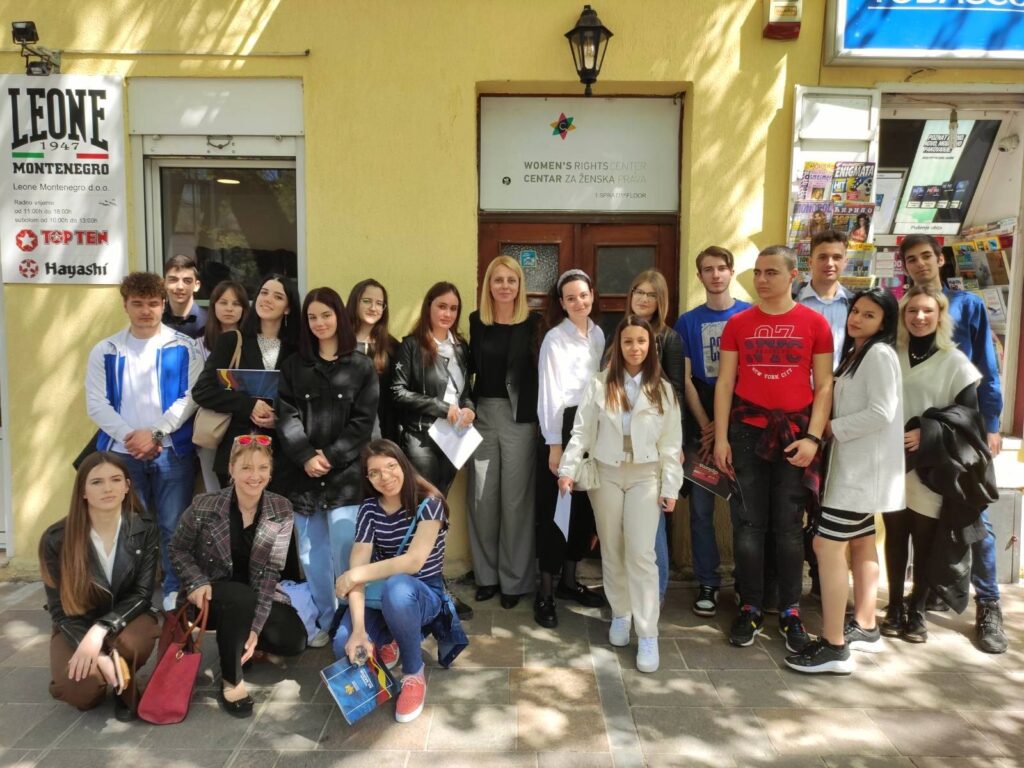 "In general, no one will serve human rights on a "golden plate". It is also up to you to show initiative, even in human rights education, which you must discuss with your teachers in schools to contribute together to building a human rights culture", said Siniša Bjeković, Protector of Human Rights and Freedoms who, together with his associates, hosted the participants of the Youth Activism School and presented the efforts of the Protector's institution in the affirmation of gender equality in Montenegro.
In the Police station in Podgorica, young people had the opportunity to find out from police officers Snežana Babović, Biljana Dulović and Rade Stijović what competencies and how the Police Directorate acts in cases of domestic violence, as the most common form of violation of women's and children's rights. "The police is, above all, to serve the citizens. The police and NGOs are only some of the links in the chain that deals with the prevention and protection of rights and which we should rely on in cases of violence, but also other forms of violation of rights", told Babović.
Diplomas for successful completion of the Young Activism School, which this study visit was a part, were awarded to: Marija Vuksanović, Neda Merdović, Dimitrije Pavlović, Ali Hasković, Milica Kaluđerović, Sulejman Purišić, Teodora Pavićević, Dora Drašković, Tarik Hadžimusović, Ana Radulović, Žarko Terzić, Jovana Šobić, Ružica Laković, Armen Canović, Petar Tabaš, Marija Miković, Davud Bahović, Jovan Petrušić, Milica Roćenović, Luka Rubežić, Mia Vemić, Milja Joksimović, Vukan Anđelić, Jovana Bošković and Isidora Stanić.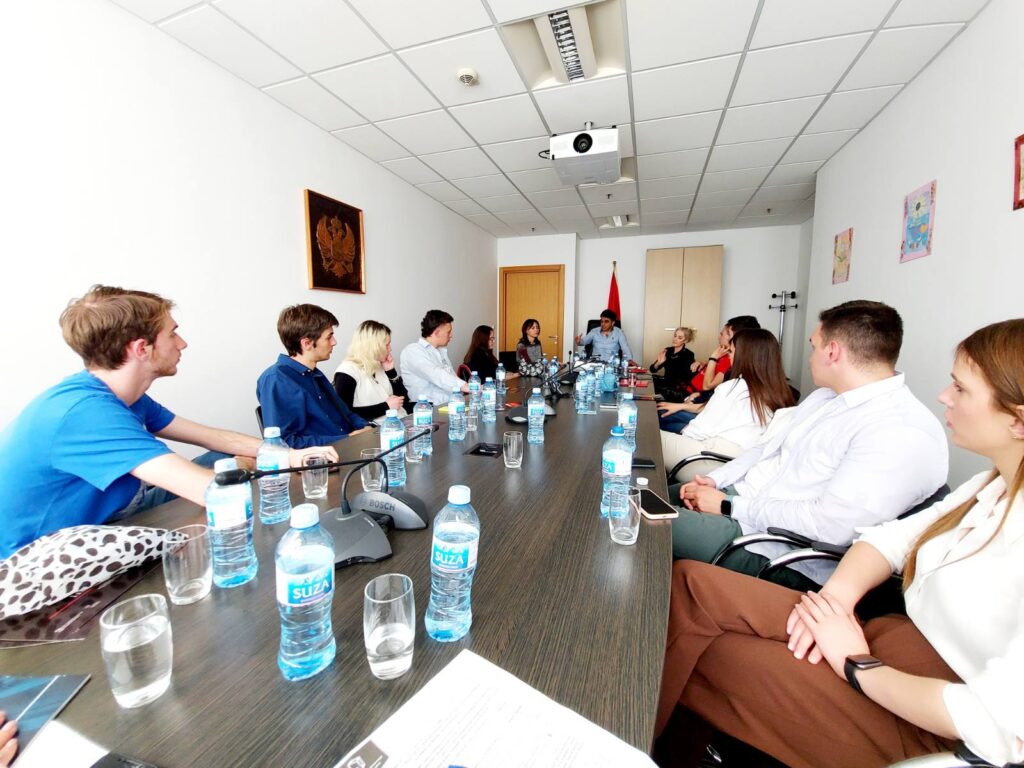 "This is a great opportunity to learn more about issues that are not adequately represented in school textbooks, and not everyone has the opportunity to learn what gender equality means through extracurricular activities. If there were more such themes in schools, but also visits to institutions we visited today, I believe that peer violence in schools and society, in general, would be reduced at least a little bit," said Milica Kaluđerović, a participant of the programme, sharing her impressions about today's visit to institutions and NGO.
Project Let's FAST FORWARD gender equality (phase II) – from stereotyping to equality! is implemented with the support by the Ministry of Justice, Human and Minority Rights of the Government of Montenegro, aimed at improving the understanding of the concept of gender equality among citizens and their sensitizing to shape a society of equal opportunities.
Maja Marinović, Programme Associate