The Centre for Civic Education (CCE) has, in cooperation with the Institute Alternative (IA), NGO Bonum and NGO NADA, organized a panel discussion regarding "Urban planning at the local level in Montenegro – risks of corruption" on 29 November, within the framework of the project "Corruption at the local level – zero tolerance!".
Panel discussion began with introductory speech of Ms Daliborka ULJAREVIĆ, the Executive Director of the CCE, followed by expert presentations within the session of "Urban planning at the local level in Montenegro – risks of corruption in the process of drafting, adoption and implementation of local planning documents," with Ms Jelisava KALEZIĆ, a PhD professor and an MP of the Democratic Front, Mr Borislav VUKIĆEVIĆ, an architect and columnist of daily "Vijesti" and Mr Mirko BOŠKOVIĆ, a journalist at the Radio Television of Montenegro (RTCG), as speakers.
Ms Daliborka Uljarević assessed that "the environment shares destiny of society in terms of devastation" and that "budvanisation has become a synonym for chaos in the environment". Also, she pointed out that "manipulations have initially been carried out with direct violation of the law, but today corruption is more frequently being incorporated in plans themselves, thereby becoming most dangerous, the legalized corruption." Uljarević has expressed her concerns that local plans for the fight against corruption do not recognize urban planning as a risk zone for corruption to emerge and develop, as well as that the local authorities are reluctant to discuss this issue. "Corruption leaves devastating consequences, and if, in addition to that, there is no accountability system for what is done, it becomes a pattern of behavior. Chaos in the environment, oversized and unperformed administration and corruption reside together nowadays. In order to start returning the environment to its real purpose, to arrange administration to be efficient and effective, and declare corruption a persona non grata, we must act systematically, " she concluded.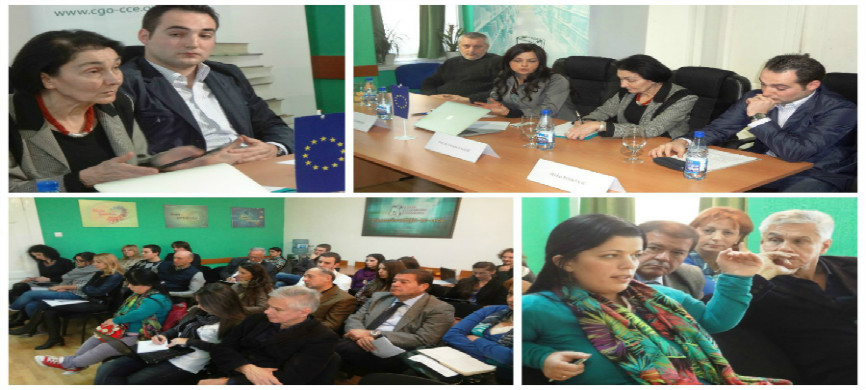 Ms Jelisava Kalezić spoke about the most common risks for corruption and possibilities for improvement in this direction. She emphasized that all members of society must have "respect towards collectiveness and what represents common property as well as benefit of the community" but also "develop principle instruments to maintain the common property, which will be a guarantee of a good development, such as the city area is a common property of those living today, those who built it and the future generations." She especially pointed out the harmful effects arising from the sale of land owned by the city, located in its central zone. "The City renounces any permanent value, for the benefit of anyone, by selling the land and thereby loses the permanent value which is increasing," said Ms Kalezić, and "manipulation with plans adoption and selection of favorite investors" she called a "metastases of corruption that are covered by the Law on Public Procurement."
Mr Borislav VUKIĆEVIĆ referred to specific examples of urban devastation in Podgorica, emphasizing the area of Tabački Most, as well as the Hotel "Crna Gora" and possible similar destiny of the Hotel Podgorica. He especially pointed out the problem of public inaccessibility to documentation that gives evidence for numerous construction projects, which are often questionable from the perspective of profession. He assessed that there is no awareness of decision makers when it comes to protection of areas that have great historical or architectural value. He has also agreed with the view that there is not even one public motive or interest to sell such land. " There is a trend in our society, that when a person appears with an investment, with the money, all doors are being opened to him/her, all urban-planning documentation is put to his/her disposal and adapted to his/her needs," emphasized Mr Vukićević.
Mr Mirko Bošković preliminary presented his findings obtained by processing this issue within the serial "Pandora's box", which is soon to be broadcasted on RTCG. He spoke about perceived and developed mechanisms for misuse of the legal and institutional framework, indicating specific examples within municipalities, which resulted in enormous losses for local and state budget.
In addition to previously named panelists, participants at the panel participated alsowere councilors of the Capital City, the Capital City officials, representatives of NGOs, media and students.
Objective of the project "Corruption at the local level – zero tolerance" is to strengthen the role of civil society organizations, local governments and relevant national bodies in policy development, monitoring and campaigning for the decrease of corruption in Montenegro's local communities. More specifically, the project aims to strengthen the implementation of anti-corruption policies at the local level, and to increase citizens' awareness on importance of effective anti-corruption mechanisms and procedures in 14 municipalities in Montenegro: Podgorica, Cetinje, Nikšić, Danilovgrad, Herceg Novi, Kotor, Tivat, Budva, Bar, Rožaje, Pljevlja, Mojkovac, Kolašin, Plužine.The project is financed by the European Union through IPA 2011, and co-financed by the Royal Norwegian Embassy.
Within the framework of project, consultative trainings have been organized in previously mentioned municipalities, regarding topics in the following areas: public-private partnerships, corruption and public procurement, combating corruption in employment, work and opportunities of local parliaments, control of local budgets and political corruption. As a follow up activity, panel discussions are scheduled, as well as policy studies regarding topics that have proven to be the most urgent, where urban planning has been recognized as one of the areas especially sensitive to corruption.

Svetlana Pešić,
Programme Associate